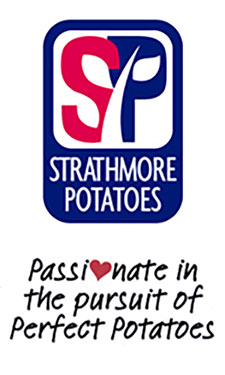 Your first stop for all potato matters!
With over 25 years experience of breeding, growing, exporting and selling.
Formed in 2005 Strathmore Potatoes Limited ( SPL ) has grown into one of the UK's leading privately owned potato businesses. We are one of a select few companies directly involved in the full cycle of potato production. We are breeders, have our own PBTC mini-tuber production facility, export/import seed and ware and have strong established relationships both in the UK and abroad.
Services
Our commitment to customer care and customer satisfaction are paramount to us and are attributes we feel are strong within our business. We currently export to Cyprus, Egypt, Europe and North Africa and we are always looking for new relationships worldwide.
Latest News and Information
Keep up to date!
We are always looking to provide the best deals and services for our existing and new customers, so dont put it off, give us a call now or subscribe to our email list to be informed of the latest news. You can also follow us on Facebook, by clicking the icon below.
Our Team
X
Stuart McIntyre
Stuart is the Managing Director of the company and has over 35 years experience within the industry. Stuart's responsibilities include the daily running of the business and developing new markets. After leaving school, Stuart served in HM Forces REME for 7 years then joined the potato industry in 1984 where he worked for both privately owned and multi-national potato businesses. In 2005 Stuart and partner Carol Pirie successfully completed a management buy-out which then saw the formation of Strathmore Potatoes Limited.
X
Carol Pirie
Carol is the Financial Director of the company and began her career within the industry in 1981. Starting with a national potato business she has gained her experience and knowledge over the last 38 years. In 2005 Carol and Stuart formed Strathmore Potatoes Limited and in 2009 they relocated to their current premises and have successfully expanded the business. Carol has overseen the expansion and manages the financial and accounting aspects of the company together with the day-to-day business activities.
X
Arlene MacPherson
Arlene is the Senior Administrator and has been with the company since 2013. Having worked in the retail sector for more than 20 years, 10 of these in the potato trade, Arlene manages the logistics and stock control and covers all aspects of general administration for the business.
X
Daan Kiezebrink
Daan has managed the minituber production at Strathmore Potatoes since 2017 and also contributes to trial work during the season. Daan has a Doctorate in plant pathology with specialist focus on potatoes. His career has covered blight trial work with the Sarvari Trust ( Sarpo varieties Axona, Mira ), nematology ( PCN ) at Rothamsted Research, potato pathology ( blackleg, powdery scab ) at SRUC and precision agriculture approaches to growing potatoes at SoilEssentials. Daan also contributes to the AHDB Strategic Potato Farm programme in Scotland.
Contact Us
Don't hesitate to contact us if you have a query or require further information, using one of the methods below. Our staff will be more than happy to assist you!
Address
Strathmore Potatoes Ltd West Craig, Dundee Road, Forfar, DD8 1XE
---
How to find us
Please use the interactive map below to find us.